Chain Drive Calculations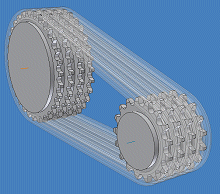 The calculation is designed for a geometrical design and strength check of common chain transmissions using roller chains.
The application solves the following tasks.
Selection of a power suitable type of chain.
Selection of an optimum transmission alternative regarding power, geometry and weight.
Calculation of geometric, strength, safety and operational parameters.
Calculation of power parameters and axis loads.
Support of 2D and 3D CAD systems.
The application works with selected CAD systems and includes corresponding databases of roller chains. The calculations use data, procedures, algorithms and data from ANSI/ASME, ACA (American Chain Association) ISO, DIN, BS and JIS.
List of standards: ANSI/ASME B29.1M (Dec2001), ANSI/ASME B29.3, DIN 8187, DIN 8181, DIN 8181, DIN 8164, DIN 8150, ISO R606, ISO 1275, BS 228, JIS B1801, JIS B1803
MITCalc Mechanical-Technical Calculation Software Start . Further Details: User Interface | 2D and 3D CAD Systems | Spur Gearing Calculations | Timing Belt | V-Belt | Chain Drives | Springs | Beam | Buckling | Shaft | Bolt Connection | Shaft Connection | Force Couplings of Shafts | Tolerances & Deviations
*MITCalc (1 Year subscription)
$105.00
*MITCalc (Full License No Time Limitations)

$375.00

*MITCalc 3D (1 year subscription)
$119.00
*MITCalc 3D (Full License No Time Limitations)

$449.00

Secure Payment Options | Developers Site
Special! Free Choice of Complete Excel Training Course OR OzGrid Add-ins Collection on all purchases totaling over $68.00.
ALL purchases totaling over $104.00 gets you BOTH! Purchase MUST be made via this site. Send payment proof to [email protected]
---
Instant Download and Money Back Guarantee on Most Software
Excel Trader Package Technical Analysis in Excel With $139.00 of FREE software!
Microsoft ® and Microsoft Excel ® are registered trademarks of Microsoft Corporation. OzGrid is in no way associated with Microsoft
GIVE YOURSELF OR YOUR COMPANY 24/7 MICROSOFT EXCEL SUPPORT & QUESTIONS