2D 3D Cad Systems
2D CAD systems: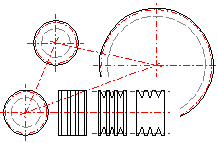 Most of the calculations allow direct output to major 2D CAD systems. Just choose your CAD system in the calculation and select the desired view (a projection type). A drawing is then saved directly in the CAD system with the correct scale and system of layers.
Supported CAD systems at this time: DXF file, AutoCAD (12-2005), AutoCAD LT (95-2005), IntelliCAD, Ashlar Graphite, TurboCAD...
Note: The design is fully open; you can connect other CAD systems or define new drawing templates based on the calculated values.
3D CAD systems: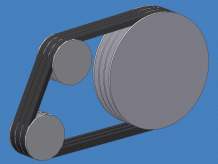 These are installed in the form of individually installed plug-ins containing relevant parametric models and an interface between Excel and the selected CAD system. An assembly may consist of not only individual components but also groups of components (sub-assemblies). For example, you can insert one complete solution of a belt gear at once, which is fully associative, and the dimensions of the inserted component (sub-assembly) will change automatically in case you make changes to the calculation parameters later.
MITCalc Mechanical-Technical Calculation Software Start . Further Details: User Interface | 2D and 3D CAD Systems | Spur Gearing Calculations | Timing Belt | V-Belt | Chain Drives | Springs | Beam | Buckling | Shaft | Bolt Connection | Shaft Connection | Force Couplings of Shafts | Tolerances & Deviations
*MITCalc (1 Year subscription)
$105.00
*MITCalc (Full License No Time Limitations)

$375.00

*MITCalc 3D (1 year subscription)
$119.00
*MITCalc 3D (Full License No Time Limitations)

$449.00

Secure Payment Options | Developers Site
Special! Free Choice of Complete Excel Training Course OR OzGrid Add-ins Collection on all purchases totaling over $68.00.
ALL purchases totaling over $104.00 gets you BOTH! Purchase MUST be made via this site. Send payment proof to [email protected]
---
Instant Download and Money Back Guarantee on Most Software
Excel Trader Package Technical Analysis in Excel With $139.00 of FREE software!
Microsoft ® and Microsoft Excel ® are registered trademarks of Microsoft Corporation. OzGrid is in no way associated with Microsoft
GIVE YOURSELF OR YOUR COMPANY 24/7 MICROSOFT EXCEL SUPPORT & QUESTIONS