Beam Calculation
The application is designed for calculations of straight, maximum three times static indefinite beams with constant axis-symmetrical profiles. The program solves the following tasks:
Simple definition of the type of beam and its loading with visual check.
Calculation of area characteristics of 20 types of cross sections.
Calculation of reactions in supports.
Calculation of minimum / maximum bending moment, stress and deflection of the beam.
Calculation and graphic illustration of the moment, stress, deflection and bending angle of the loaded beam.
The application includes a table of materials and a table of area characteristics of W, S, C, L profiles acc. to ANSI/AISC and I, U, L a T profiles acc. to DIN/ISO.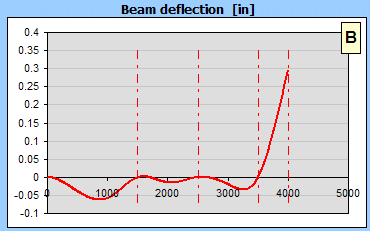 The calculation is based on data, procedures, algorithms and data from specialized literature and AGMA, ISO, DIN and BS standards.
List of standards (DIN 1025, 1026, 1028, 1029, 1024, AISC W, S, C, L, LU ... )

MITCalc Mechanical-Technical Calculation Software Start . Further Details: User Interface | 2D and 3D CAD Systems | Spur Gearing Calculations | Timing Belt | V-Belt | Chain Drives | Springs | Beam | Buckling | Shaft | Bolt Connection | Shaft Connection | Force Couplings of Shafts | Tolerances & Deviations
*MITCalc (1 Year subscription)
$105.00
*MITCalc (Full License No Time Limitations)

$375.00

*MITCalc 3D (1 year subscription)
$119.00
*MITCalc 3D (Full License No Time Limitations)

$449.00

Secure Payment Options | Developers Site
Special! Free Choice of Complete Excel Training Course OR OzGrid Add-ins Collection on all purchases totaling over $68.00.
ALL purchases totaling over $104.00 gets you BOTH! Purchase MUST be made via this site. Send payment proof to [email protected]
---
Instant Download and Money Back Guarantee on Most Software
Excel Trader Package Technical Analysis in Excel With $139.00 of FREE software!
Microsoft ® and Microsoft Excel ® are registered trademarks of Microsoft Corporation. OzGrid is in no way associated with Microsoft
GIVE YOURSELF OR YOUR COMPANY 24/7 MICROSOFT EXCEL SUPPORT & QUESTIONS