To Verify Archive Integrity
Find Desktop has an Archive Integrity verify tool. This tool allows you to check if one or more files have been moved or deleted from their original path. You can choose what to do directly from here. If you have a new path for a file, simply select it to recreate the index.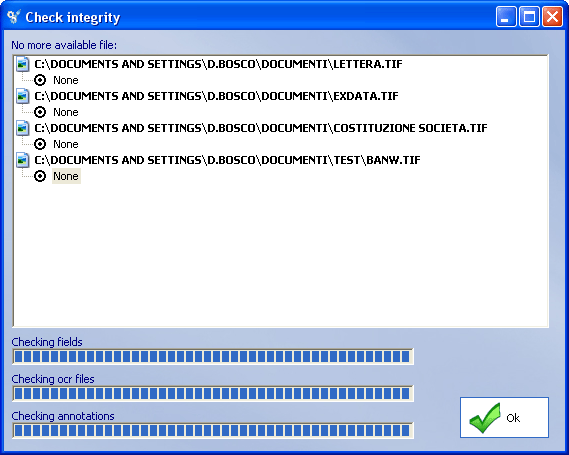 Details and Help: Folder to Index & To Index E-mails | To create a Field & To acquire image files from scanner | To perform OCR and indexation & create virtual annotations | Indexing & Full text and synonym searches | Field searches & Search results | To Create and manage the print list & Image files that need OCR processing | To verify archive integrity
Find Desktop Standard

$80.00

Secure Payment Options | Find File Desktop Professional
Special! Free Choice of Complete Excel Training Course or Excel Add-ins Collection on all purchases totaling over $70.00. ALL purchases totaling over $144.00 gets you BOTH! Send payment proof to [email protected] 31 days after purchase date.
---

Instant Download and Money Back Guarantee on Most Software
Excel Trader Package Technical Analysis in Excel With $139.00 of FREE software!
Microsoft ® and Microsoft Excel ® are registered trademarks of Microsoft Corporation. OzGrid is in no way associated with Microsoft

GIVE YOURSELF OR YOUR COMPANY 24/7 MICROSOFT EXCEL SUPPORT & QUESTIONS