Excel Named Range Manager
BUY Excel Named Range Add-in Manager
This Excel Add-in will allow you to easily and quickly create and manage all Excel named ranges and constants. You can delete all redundant or broken names, create named constants, dynamic named ranges (ideal for charts and Pivot tables), create Worksheet level names, consecutive named ranges and more.
If you work with Microsoft Excel ® Spreadsheets you are no doubt aware of the benefits of using named ranges as opposed to range addresses. For example =SUM(Year_2005_Figures) is much better than =SUM($A$2:$D$5000). The use of named ranges also means you can get to the named ranges very quickly and easily. Unfortunately most Excel users don't get past using named ranges in this manner and realize their full potential.
With the Excel Named Range Manager you will be able to realize the full potential of named ranges.
All feature are extremely easy to use. No help file like a phone book, just to-the-point explanations. The code behind the Excel Add-in will guide you through any steps.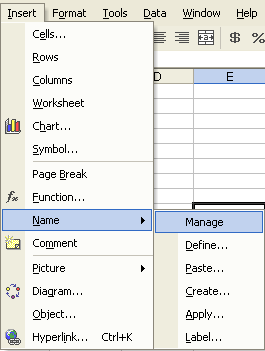 Excel Named Range Manager

Excel 97 or above |

Secure Payment Options | 30 Day Money Back Guarantee & Huge Discounts for Unlimited Licenses | Buy on its own or buy as part of the Excel Add-ins Collection for not much more and get our Complete Excel Course for FREE. You will be able to download your Excel Add-in immediately after ordering.
Single user license =2 users 2 computers| Unlimited user license = unlimited users unlimited computers | Resellers user license = Do anything you like with the add-in, including rebranding and reselling. That is, NO RESTRICTIONS AT ALL. Please email the support address and include your order number so we can send you the code password. Resellers user license ONLY
---
Instant Download and Money Back Guarantee on Most Software
Excel Trader Package Technical Analysis in Excel With $139.00 of FREE software!
Microsoft ® and Microsoft Excel ® are registered trademarks of Microsoft Corporation. OzGrid is in no way associated with Microsoft

GIVE YOURSELF OR YOUR COMPANY 24/7 MICROSOFT EXCEL SUPPORT & QUESTIONS