Hide Excel Named Ranges
On this page you select all or some names that you want to hide. Hidden names cannot be seen via the standard Name box, via Define names. If your Workbook is used by others, hiding names is a great way to stop other users 'playing' about. Once you have hidden names, you will see them on the Show Hidden Names page only.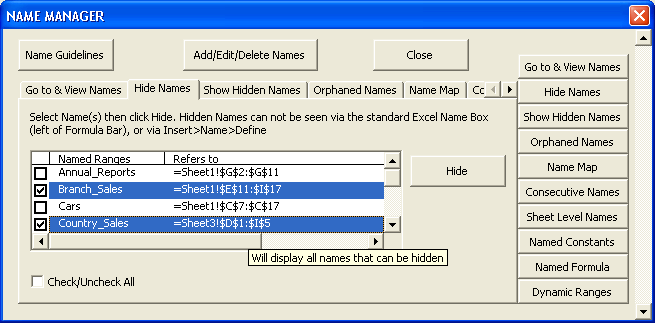 Excel Named Range Manager

Excel 97 or above |

Secure Payment Options | 30 Day Money Back Guarantee & Huge Discounts for Unlimited Licenses | Buy on its own or buy as part of the Excel Add-ins Collection for not much more and get our Complete Excel Course for FREE. You will be able to download your Excel Add-in immediately after ordering.
Single user license =2 users 2 computers| Unlimited user license = unlimited users unlimited computers | Resellers user license = Do anything you like with the add-in, including rebranding and reselling. That is, NO RESTRICTIONS AT ALL. Please email the support address and include your order number so we can send you the code password. Resellers user license ONLY
---
Instant Download and Money Back Guarantee on Most Software
Excel Trader Package Technical Analysis in Excel With $139.00 of FREE software!
Microsoft � and Microsoft Excel � are registered trademarks of Microsoft Corporation. OzGrid is in no way associated with Microsoft

GIVE YOURSELF OR YOUR COMPANY 24/7 MICROSOFT EXCEL SUPPORT & QUESTIONS