Create Named Excel Formulas
Named Formulas can be used to create your own custom functions. Once created, they save you having to re-enter the formula name, correct formula syntax, parenthesis and formula reference range over-and-over. The functions you can choose from are: AVERAGE, COUNT, COUNTA, COUNTBLANK, MAX, MIN and SUM.
You can choose a Function and have that Function calculate the Formula Range relative to the Relative Cell. For example, if you choose SUM and the Formula Range A1:A10, the Relative Cell A11 and the Name MySum, you can then use: =MySum anywhere on row 11 on the chosen Worksheets. The result will be the SUM of rows 1:10 of the column the Named Formula resides in.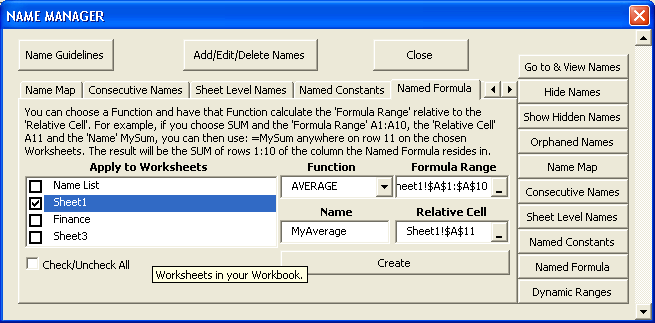 Excel Named Range Manager

Excel 97 or above |

Secure Payment Options | 30 Day Money Back Guarantee & Huge Discounts for Unlimited Licenses | Buy on its own or buy as part of the Excel Add-ins Collection for not much more and get our Complete Excel Course for FREE. You will be able to download your Excel Add-in immediately after ordering.
Single user license =2 users 2 computers| Unlimited user license = unlimited users unlimited computers | Resellers user license = Do anything you like with the add-in, including rebranding and reselling. That is, NO RESTRICTIONS AT ALL. Please email the support address and include your order number so we can send you the code password. Resellers user license ONLY
---
Instant Download and Money Back Guarantee on Most Software
Excel Trader Package Technical Analysis in Excel With $139.00 of FREE software!
Microsoft � and Microsoft Excel � are registered trademarks of Microsoft Corporation. OzGrid is in no way associated with Microsoft

GIVE YOURSELF OR YOUR COMPANY 24/7 MICROSOFT EXCEL SUPPORT & QUESTIONS