If you work with electronic worksheets, you often need to merge several worksheets into one. For example, when you have to compare price lists from different suppliers providing the same goods or put together information from several small worksheets into a big one. Even if the amount of data is not large, this work is boring and needs much time, efforts and attention. XL Fusion is used for merging several electronic worksheets into one automatically.
XL Fusion Interface
The initial window of the program is shown below

Buttons:
Select Files - opens the dialog box where you can select files and specify the parameters
Start - merges the worksheets, becomes available when all the parameters are specified
The dialog box for selecting files and specifying parameters is shown below;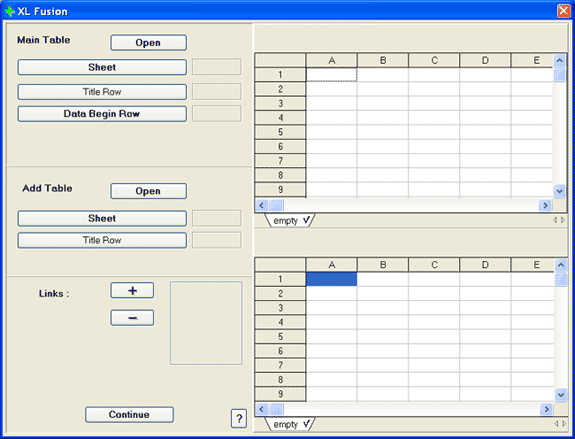 Buttons Legend
Open - used for specifying the main and additional worksheets
Sheet - used for specifying worksheet
Title Row - used for specifying the worksheet header
Data Begin Row - used for specifying the first row with data in the main worksheet.
Plus - adds a link between worksheets
Minus - removes the selected link
Continue - continues merging when all the parameters are specified
System Requirements:
Any PC running Windows 95 or better
Excel 97 and above.
At least 32 MB of free memory, 6 MB of free hard disk space.
---

Instant Download and Money Back Guarantee on Most Software
Excel Trader Package Technical Analysis in Excel With $139.00 of FREE software!
Microsoft ® and Microsoft Excel ® are registered trademarks of Microsoft Corporation. OzGrid is in no way associated with Microsoft