Spreadsheets need the details in order to calculate the sub-totals, filter the critical records, and create the charts that you actually look at. What you need to see first is "the big picture" -- the totals, charts, and exceptional values that are in the spreadsheet. But, those are often buried in the details.
If you are regularly receiving a number of spreadsheets from various departments and associates, you get overwhelmed with details. You waste time, and often miss the critical information in the spreadsheets.
Xcelential dashboards allow you to focus on the "big picture"
Select the charts, totals, and critical records from a spreadsheet once, and paste it into an Xcelential dashboard. Suddenly, you find that you have the key information you need in a very small space.
Do that for all the other spreadsheets you receive regularly. That gives you a dashboard that shows you all the critical information from all the different files, on a single screen. Now you can prioritize. Zero-in on the items that most need your attention.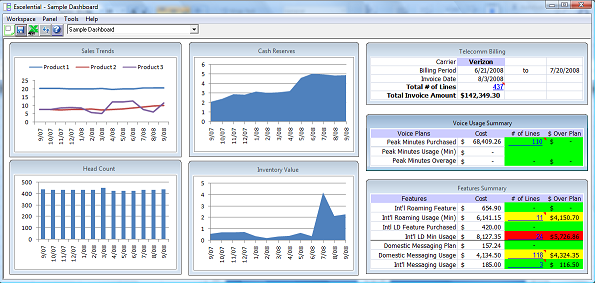 You no longer have to hunt for the individual Excel files. You no longer have to wade through all the unnecessary details just to look for one important piece of information.
Best of all, you don't lose any of the details, anyway. With Xcelential, you just double-click on a key indicator on the dashboard, and the underlying Excel spreadsheet opens up. If the indicators show that you need to go to the details, the spreadsheet is conveniently available. There is no need to go hunting through your emails or shared folders looking for the Excel file.
Xcelential Auto-updates Dashboards from Excel Spreadsheets
New versions of Excel spreadsheets are created and sent to you by email, by folders on network drives, or by other means. You may update others from by running a database query.

Automatically Finds Updated Excel Files
However you get updated spreadsheets, when Xcelential runs, it can automatically check if a new version of an Excel spreadsheet has arrived. It will even find a file whose name is slightly different, if you specified a "mask" for the file name. It will then move or copy it to a folder you specified for all updates to a file. It can even update a spreadsheet on schedule by running a query.

Automatically Links the Dashboard to Use the Updated File
Xcelential updates the dashboard's contents with the new version of the Excel spreadsheet. It also changes the link, so that clicking on the dashboard object launches the new version. You don't work with an obsolete version of an Excel spreadsheet.


Works with Changing Filenames
Xcelential even adapts to situations where a spreadsheet's name changes with every version. For example, some of the spreadsheets you work with may have the date appended to the file name. So one day, you get a file named "Sheets_20081126.xls", and the next day, you get one named "Sheets_20081127.xls". With Xcelential, you can specify a "mask" (such as "Sheets_*.xls"), that allows it to find and open an updated file.

Of course, it is possible that the author of a spreadsheet made a mistake, and he misspells the file name. Only in those cases would you have to manually copy the file to its usual folder, and rename it. In all other cases, you will not need to worry about keeping abreast with the latest versions. Xcelential will do that for you.
MORE DETAILS: Pro V.S. Standard Edition | Fight information overload from Excel spreadsheets | Enhancing Job Security with an Excel Dashboard? | BI dashboards and Xcelential are complementary technology and products | Why Managers Need a Personal Excel Dashboard | Xcelential Quick Visual Demo
1
$87.00 USD
2 - 5 Licenses
$78.30 USD
6 - 25 Licenses
$69.60 USD
26 - 99 Licenses
$60.90 USD
100+ Licenses
$52.20 USD
1
$49.00 USD
2 - 5 Licenses
$44.10 USD
6 - 25 Licenses
$39.20 USD
26 - 99 Licenses
$34.30 USD
100+ Licenses
$29.40 USD
---
Instant Download and Money Back Guarantee on Most Software
Excel Trader Package Technical Analysis in Excel With $139.00 of FREE software!
Microsoft ® and Microsoft Excel ® are registered trademarks of Microsoft Corporation. OzGrid is in no way associated with Microsoft