Intermediate Chart Lesson Excel: 'How to add Custom Markers To Excel Charts'
This course is step-by-step with screen shots and an example Workbook Chart. It first goes step-by-step for Excel 97-2003 users, then Excel 2007+. Also See: Intermediate To Advanced chart Lessons Or All Excel Training
How to add Custom Markers To Excel Charts <SEE ALSO CHART TOOLS FOR EXCEL>
When creating a Line or XY-Scatter chart Excel provides a limited set of markers. By using different foreground and background colours you can extend the choice a little.

What you may not know is that it is possible to use clip art or image files.
Create a Line with markers chart using the example data below.
| | | |
| --- | --- | --- |
| | A | B |
| 1 | | Burger Sales (millions) |
| 2 | UK | 4 |
| 3 | France | 2 |
| 4 | Germany | 2.5 |
| 5 | Spain | 1 |
| 6 | USA | 5 |
The standard chart will look like this.
You now need to obtain an image to use as the custom marker. For this example we can use one of the clip art images. Use the menu Insert > Picture > Clip art... In the Search for field enter the keyword 'burger'. Choose the image required and insert it in to the workbook.

In order to use the image as a marker we need to copy first copy the image to the clipboard. This is done in the normal way, select the image and use the keyboard shortcut of CTRL+C.
Now select the line series and paste the clipboard contents by using the keyboard shortcut CTRL+V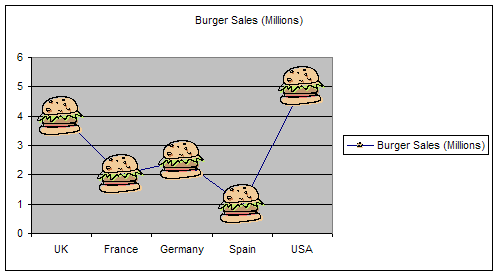 Secure Payment Options 30 Day Money Back Guarantee & Big Discount for Unlimited License and Resellers License
Single user license =2 users 2 computers| Unlimited user license = unlimited users unlimited computers | Resellers user license = Do anything you like with the add-in, including rebranding and reselling. That is, NO RESTRICTIONS AT ALL.
Special! Free Choice of Complete Excel Training Course OR Excel Add-ins Collection on all purchases totaling over $64.00. ALL purchases totaling over $150.00 gets you BOTH! Purchases MUST be made via this site. Send payment proof to [email protected] 31 days after purchase date.

Instant Download and Money Back Guarantee on Most Software
Excel Trader Package Technical Analysis in Excel With $139.00 of FREE software!
Microsoft ® and Microsoft Excel ® are registered trademarks of Microsoft Corporation. OzGrid is in no way associated with Microsoft

GIVE YOURSELF OR YOUR COMPANY 24/7 MICROSOFT EXCEL SUPPORT & QUESTIONS