Timesheet Summary Page
Timesheet Summary Page
The Totals sheet has a very easy to use Pivot Table which is based off all employees and their hours. You can simply specify to display results by Week and/or by Name or show All Names and/or All Weeks. Double clicking on any hours within the Total Hours field will give you a Break Down of the displayed data.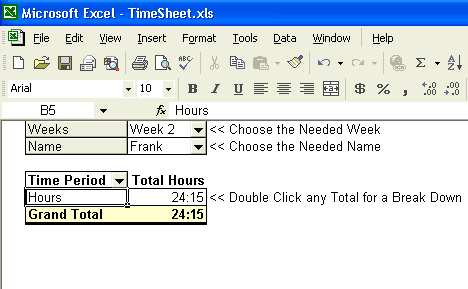 This is a Break Down based on 2 employees for a 4 week period.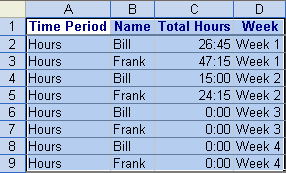 Excel Time Sheet Advanced

$29.95 Excel 97 or above.

Secure Payment Options
30 Day Money Back Guarantee and HUGE Discounts for Unlimited License
Excel Time Sheet Advanced (Open Source)

$44.95 Excel 97 or above. Password for VBA code and Formulae supplied.
Special ! Free Choice of Complete Excel Training Course OR Excel Add-ins Collection on all purchases totaling over $70.00. ALL purchases totaling over $150.00 gets you BOTH! Purchases MUST be made via this site. Send payment proof to [email protected] 31 days after purchase date.
---

Instant Download and Money Back Guarantee on Most Software
Excel Trader Package Technical Analysis in Excel With $139.00 of FREE software!
Microsoft ® and Microsoft Excel ® are registered trademarks of Microsoft Corporation. OzGrid is in no way associated with Microsoft
GIVE YOURSELF OR YOUR COMPANY 24/7 MICROSOFT EXCEL SUPPORT & QUESTIONS