Excel Number Manager Add-in
For Managing of all Numbers in Microsoft Excel Spreadsheets.
The Excel Number Manager Add-in fills in the gaps in Excel when working with numbers. It allows you to add 15 different number formats that are not part of Excel's built in number formats. Retain leading zeros, show dollars and cents, Align all decimals, have negatives in brackets, hide negatives, positives, zeros, text, numbers, or all. There is even a List box where you can select anyone of 172 currency codes to format you numbers as USD25.00, AUD356.32 etc. All this and much more!
You will be able to download your Excel Add-in immediately after ordering. 30 Day Money Back Guarantee On All Excel Add-ins! Big Discount for Unlimited License. Only $44.95 With FREE File Size Reducer Excel Number Manager Buy on it's own, or SAVE by buying as part of a Add-ins collection
Number Manager

Secure Payment Options
Number Manager Screen 1 Format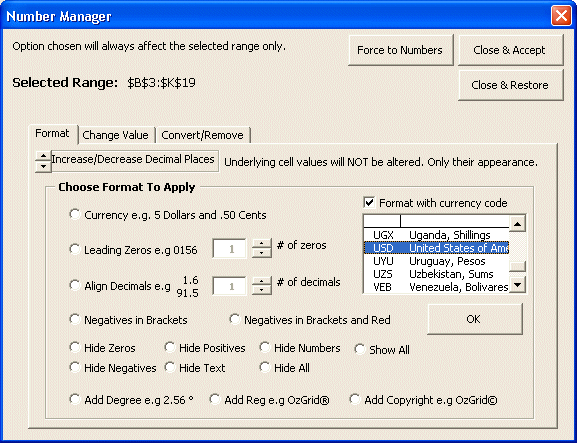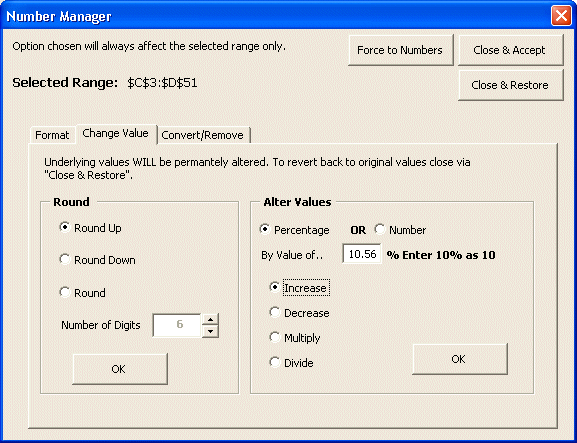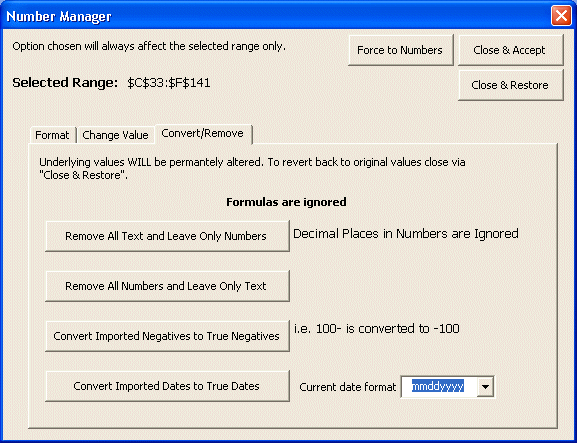 Other Ozgrid Add-ins: Excel Duplication Manager Add-in | Excel Formula Manager Add-in | Excel Number Manager Add-in | Excel Text Manager Add-in | Excel OzGrid Plus Add-in | Excel Time Sheet | Excel Time Wage and Pay book
Microsoft ® and Microsoft Excel ® are registered trademarks of Microsoft Corporation. OzGrid is in no way associated with Microsoft.