Excel Manual Outline
Using the Excel Outline Feature to Manually Outline Data
Excel Outline Manual
Download Manual Outlining example workbook. See Also: Enable Outlining/Grouping on a Protected Sheet
Manual Outlining
If your data does not contain functions, but instead contains values or text, you will be unable to create an Automatic Outline . Instead, you will need to manually group and outline your data to your own requirements.
You could Manually Outline data, like the data in the following screen shot that does not contain any functions.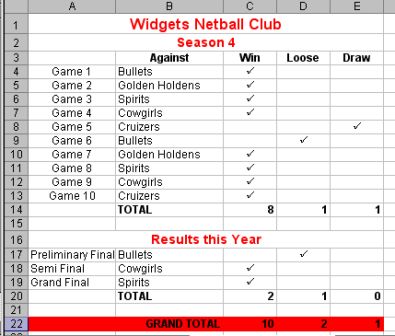 If you need to use Manual Outlining, the best way to approach it is to group in layers, Starting from the top and working down. You can then develop a comprehensive system of outlining in your Worksheet with relative ease allowing you to maximum functionality of this useful feature.
To create a manual outline with three sub-groups, follow these steps:
Highlight rows 4:13
Go to Data>Group and Outline>Group
Highlight rows 17:19
Go to Data>Group and Outline>Group
Highlight rows 4:21
Go to Data>Group and Outline>Group
Your outline should look like the following screen shot.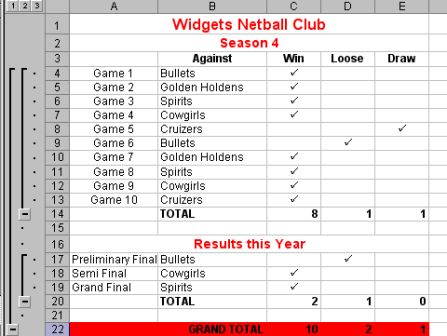 Again, buttons with the numbers 1, 2, 3 indicate an outlining level. Click on the buttons to expand or collapse all summary levels to that level. You will also notice the collapse button (-) and an expand (+) button. The collapse button will indicate that the associated summary level has been expanded to show the detail levels. The expand button works in reverse.
To clear a Manual Outline, go to Data>Group and Outline>Clear Outline.
Click here to learn about Automatic Excel Outlining
Download Manual Outlining example workbook
Excel Dashboard Reports & Excel Dashboard Charts 50% Off Become an ExcelUser Affiliate & Earn Money
Special! Free Choice of Complete Excel Training Course OR Excel Add-ins Collection on all purchases totaling over $64.00. ALL purchases totaling over $150.00 gets you BOTH! Purchases MUST be made via this site. Send payment proof to [email protected] 31 days after purchase date.

Instant Download and Money Back Guarantee on Most Software
Excel Trader Package Technical Analysis in Excel With $139.00 of FREE software!
Microsoft ® and Microsoft Excel ® are registered trademarks of Microsoft Corporation. OzGrid is in no way associated with Microsoft
Some of our more popular products are below...
Convert Excel Spreadsheets To Webpages | Trading In Excel | Construction Estimators | Finance Templates & Add-ins Bundle | Code-VBA | Smart-VBA | Print-VBA | Excel Data Manipulation & Analysis | Convert MS Office Applications To...... | Analyzer Excel | Downloader Excel | MSSQL Migration Toolkit | Monte Carlo Add-in | Excel Costing Templates