Expense Tracking Software
EXPENSE TRACKER FOR EXCEL®
Expense Tracker for Excel® is expense tracking a family budget and money management software designed for Microsoft Excel® lovers who chose an Excel money management tool over a family finance management application to manage their daily expenses. The money tracking spreadsheet is simple to use. All you do is plug in your numbers to find out where you money is going daily and monthly. Your family budget software made easy!
Expense Tracker for Excel® is a quick and easy way to track your daily and weekly expenses and manage your family budget. Some of its features include: Summarized Weekly Expense Report by day/week, some customizable categories, and a colorful expense breakdown pie chart
Track where your money goes
See where your money goes by tracking your daily expenses by type. Get a clear picture of where your money is going by week or by month. Tracking your expenses for selected time periods helps you to save money by identifying spending trends.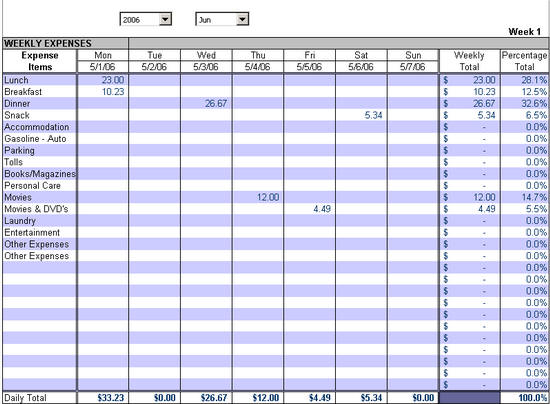 View colorful detailed charts and graphs
View colorful detailed charts and graphs to see graphically where your money goes by category. If you prefer to see where your expenses go in a colorful, easy to read pie chart, you will enjoy this feature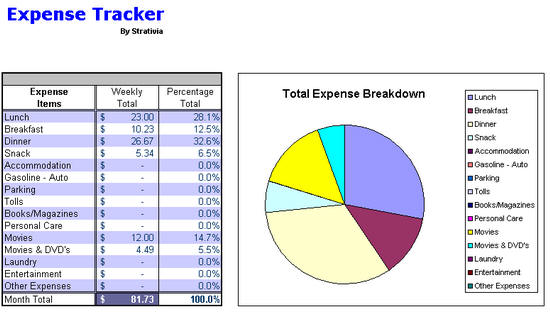 Print detailed and summarized reports
View summarized reports, by week or by month. No need for an elaborate report, our family budget and money management software reports are clear and to the point.
Determine your own expense categories
Customized expense categories allow you to set the software settings the way you prefer. This gives you total control over your expense tracking.
Get prompt support
All Strativia money management software products include comprehensive user guides - all your questions get answered fast.
System Requirements
Computer: Pentium 200 or Higher
Operating System: Windows 98 or higher
Software: Microsoft Excel® 98 or higher
Memory: 32 MB RAM required (128 MB RAM recommended)
Hard Disk Space: 10 MB
Monitor: SVGA (800x600) with 256 required (1024x768 with 16-bit color recommended)
Printer: Windows compatible printers for 98 or later
Special! Free Choice of Complete Excel Training Course OR Excel Add-ins Collection on all purchases totaling over $70.00. ALL purchases totaling over $150.00 gets you BOTH! Purchases MUST be made via this site. Send payment proof to [email protected] 31 days after purchase date.
---

Instant Download and Money Back Guarantee on Most Software
Excel Trader Package Technical Analysis in Excel With $139.00 of FREE software!
Microsoft ® and Microsoft Excel ® are registered trademarks of Microsoft Corporation. OzGrid is in no way associated with Microsoft