Buy Today (below) and send us your order ID and claim over $70.00 worth of FREE software
EzPaste is a unique productivity tool for creating presentations directly from Excel. EzPaste is an Excel Add-in productivity tool intended for completely automating and managing the otherwise manual and somewhat tedious process of copying and pasting charts and tables from Excel to PowerPoint.
It lets you copy AT ONCE hundreds of Excel charts and tables, while giving you complete control over the process. EzPaste features PowerPoint, Word, Outlook, Pdf, Html and image files.
EzPaste identifies automatically all the objects (charts and named tables) in the active workbook. Main attributes:
Complete control over the objects to be pasted

Complete control over the pasting order

Paste to new slides or predefined slide numbers

Complete control over the positioning of the pasted objects on the slide

Paste as Pictures or as Microsoft editable Excel entities

Built-in utility for managing data-ranges to be pasted as tables

A title may be assigned to each object from EzPaste-xl2ppt

All the settings of a specific Excel file are saved within the XL file

Each selected object could be previewed in the main form

Paste also to a PDF file
Even for performing an isolated copy/paste of the current Excel selection (chart or data), EzPaste replaces the 4-5 steps usually involved with a swift one-click button, making it a valuable Excel tool on your desktop.
EzPaste is a professional utility referenced by Microsoft in its relevant tutorial regarding copying and pasting objects from Excel to PowerPoint.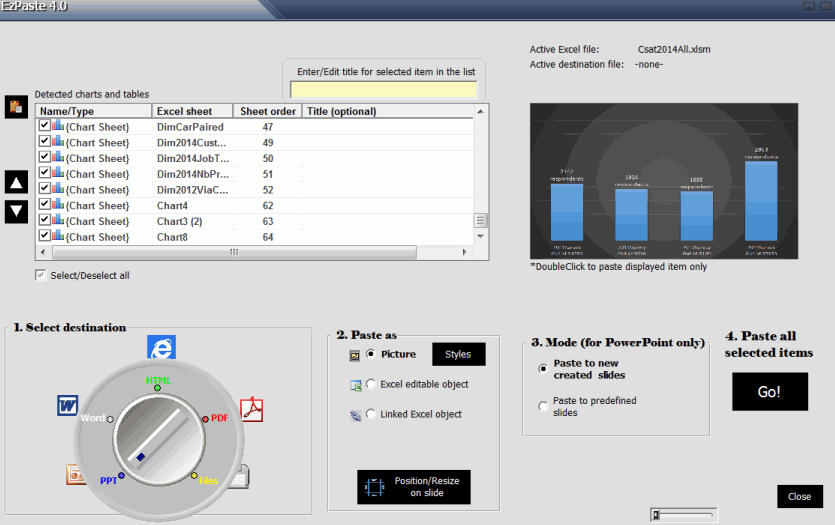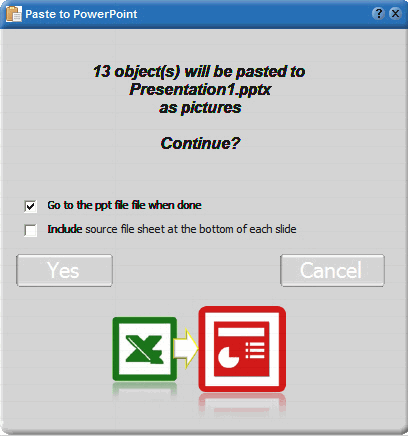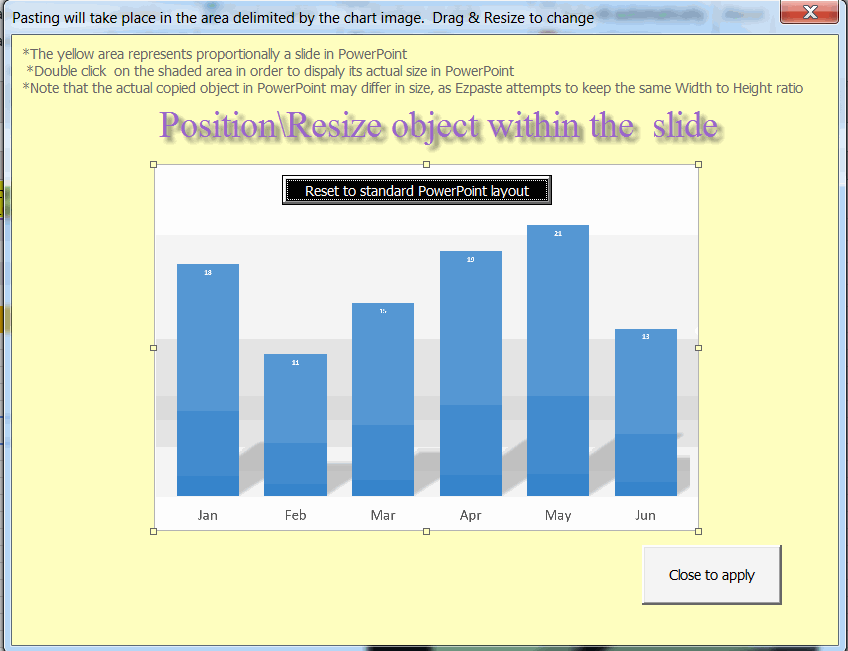 EzPaste for Excel

$129.95 Payment Options/Problems