Similar Data Finder for Excel will help you to find cells with similar values in Microsoft Excel worksheets.
The program enables you to:
Quickly find mistakes made while entering cell values.
Easily correct the mistakes.
Find and mark cells which seem to be incorrect.
Remove the cells with identical values.
How does the program work?
Let's image that you have the following Microsoft Excel table: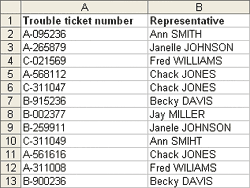 You take the following steps:
Start Similar Data Finder for Excel
Choose the necessary worksheet or a range of cells
Specify a mode of comparison of cells
Several seconds later you will get the following report: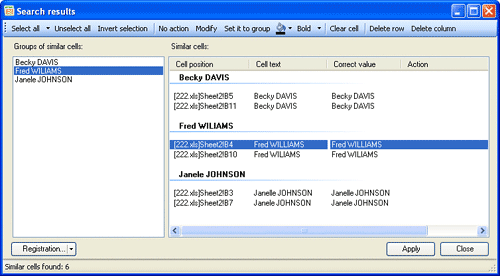 The cells with similar values have been identified and now you can perform the following operations over them:
highlight (change a background or font);
clear;
change the contents;
copy the correct value to every cell of the group;
delete the row or column.
One of the important features of the program is its ability to present the cells with identical value in the final report. All the above mentioned operations can be applied to identical cells.
Product Requirements
In order to function properly the product requires the following:
Operating system requirements:
Microsoft Windows 98 or above
Software requirements:
Microsoft .NET Framework
Microsoft Excel 2000 or above
to download demo, click any purchase link or button and then click on product name
Similar Data Finder For Excel

1 User License $39.00

Secure Payment Options
Buy 5 User License $159.00 | Buy 10 User License $249.00
Special! Free Choice of Complete Excel Training Course or Excel Add-ins Collection on all purchases totaling over $70.00. ALL purchases totaling over $150.00 gets you BOTH! Purchases MUST be made via this site. Send payment proof to [email protected] 31 days after purchase date.
See Also: Excel Add-ins Index, Over 200!
---
Instant Download and Money Back Guarantee on Most Software
Excel Trader Package Technical Analysis in Excel With $139.00 of FREE software!
Microsoft ® and Microsoft Excel ® are registered trademarks of Microsoft Corporation. OzGrid is in no way associated with Microsoft