Excel Formula Reference Changer & Sheet Index Creator
This handy little Excel Add-in can very quickly change thousands of formula references to your specified type. It has 3 levels of areas to effect
Selection only
Entire Active Sheet
Entire Workbook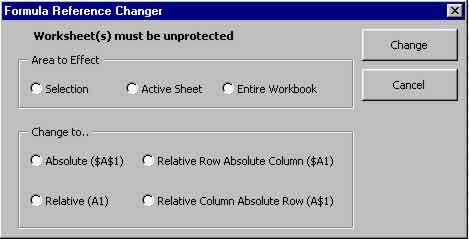 Sheet Index Creator
Have a workbook with a large number of Worksheets? Find it hard and too time consuming navigating through all the sheets? This option allows you to easily create an Index Sheet that has click-able links to all sheets. It also has the option of placing a "Back to Index" link on all the sheets.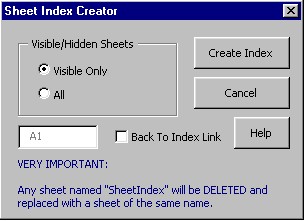 Formula Reference Changer & Sheet Index Creator

Excel 97 or above |

Secure Payment Options | 30 Day Money Back Guarantee & Huge Discounts for Unlimited Licenses | Buy on its own or buy as part of the Excel Add-ins Collection for not much more and get our Complete Excel Course for FREE. You will be able to download your Excel Add-in immediately after ordering.
Single user license =2 users 2 computers| Unlimited user license = unlimited users unlimited computers
---
Instant Download and Money Back Guarantee on Most Software
Excel Trader Package Technical Analysis in Excel With $139.00 of FREE software!
Microsoft � and Microsoft Excel � are registered trademarks of Microsoft Corporation. OzGrid is in no way associated with Microsoft

GIVE YOURSELF OR YOUR COMPANY 24/7 MICROSOFT EXCEL SUPPORT & QUESTIONS