Excel Password Assistant
Recover Passwords for Excel Workbook and Excel Worksheets
The Password Assistant allows you to unlock worksheets or workbooks that are password protected!. It does the task in just minutes. And, it gives you the password so that you can re-lock the workbook! Please Note: The Password Assistant can not unlock a workbook that requires a password to open. For this see: Excel Password Recovery See Also: Find Protected
See Also: Excel Password Recovery | Access Password Recovery | Word Password Recovery | RAR Password Recovery | PDF Password Re covery
Back to: Excel Add-ins |Software Categories |

Search All Software
Order online from our secure service - Get delivery in minutes!
Free 30 Day Money Back Guarantee On All Excel Add-ins
Buy individually or as part of the Analysis Collection for Microsoft Excel and save! Over 80%by buying 40+time saving add-ins and 3downloadable books!
Password Assistant for Microsoft Excel

$24.95

Secure Payment Options
The Password Assistant allows you to unlock worksheets or workbooks that are password protected!. It does the task in just minutes. And, it gives you the password so that you can re-lock the workbook! Another feature of the Password Assistant allows you to password protect or password unprotect multiple worksheets at the same time, with the same password!
The Password Assistant is completely menu driven: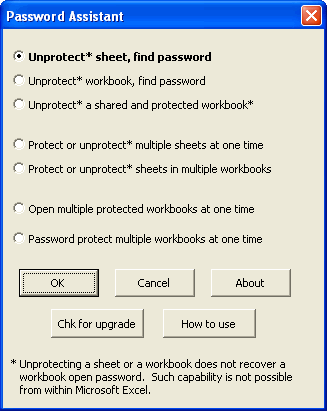 The menus are easy to follow and use. And, to help you learn how to use the features of the Password Assistant, there is an exercise file to give you hands on practice
---

Instant Download and Money Back Guarantee on Most Software
Excel Trader Package Technical Analysis in Excel With $139.00 of FREE software!
Microsoft ® and Microsoft Excel ® are registered trademarks of Microsoft Corporation. OzGrid is in no way associated with Microsoft
GIVE YOURSELF OR YOUR COMPANY 24/7 MICROSOFT EXCEL SUPPORT & QUESTIONS