Excel Class .NET Component For Data Exchange
Buy Today

,

send us your order ID, and claim over $70.00 worth of FREE software
BUY Excel Class .NET
Excel Class is a powerful .NET component with over two hundred useful functions to assist in exchanging data between Excel and .NET applications and much more! Included in the download is a sample Visual Basic .NET project which demonstrates the power of Excel Class .NET. Download it now and see for yourself how your programming time can be cut down drastically with this handy control! See Also: Excel OCX
Excel Class .NET is a DLL for exchanging data between .NET and Excel via COM technology. Programmers can cut down programming time drastically with this powerful component.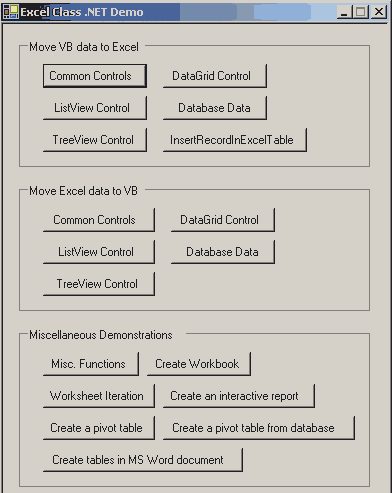 Excel Class .NET is a powerful .NET component written in Visual Basic .NET (ensuring maximum compatibility, ease-of-use and effectiveness) which contains a smorgasbord of functions to exchange data between Excel and .NET, create professional looking reports in Excel, and much much more! Using Excel Class .NET in your .NET project will allow you to create applications in mere days which used to take weeks! The amount of time and money saved more than makes up for the cost of the product. Our many satisfied customers tell us that Excel Class .NET pays for itself the first time it is used! All functions have been thoroughly tested and optimized to perform data transfer as quickly as possible.
---

Instant Download and Money Back Guarantee on Most Software
Excel Trader Package Technical Analysis in Excel With $139.00 of FREE software!
Microsoft ® and Microsoft Excel ® are registered trademarks of Microsoft Corporation. OzGrid is in no way associated with Microsoft
GIVE YOURSELF OR YOUR COMPANY 24/7 MICROSOFT EXCEL SUPPORT & QUESTIONS