Excel Split Panes
Using Split Panes to View the Same Worksheet
Current Special! Complete Excel Excel Training Course for Excel 97 - Excel 2003, only $145.00. $59.95 Instant Buy/Download, 30 Day Money Back Guarantee & Free Excel Help for LIFE!
See Also: Freeze Panes || View Multiple Sheets of an Excel Workbook
Split Panes
A very handy feature of Excel is its ability to allow you view more than one copy of your worksheet, and for you to be able to scroll through each pane of your worksheet independently. You can do this by using a feature called Split Panes, which will allow you to split your worksheet both horizontally and vertically.
When you split panes. The panes of your worksheet work simultaneously. If you make a change in one, it will simultaneously appear in the other. If you wish to move the split, just place your mouse over it, hold down your left mouse button and drag to where you want it. To get rid of the split, just double click it, or go to Window>Remove Split.
Horizontal Split
To create a horizontal split in your worksheet, highlight the row where you wish the split to be placed, go to Window>Split and you will see a line appear across your worksheet.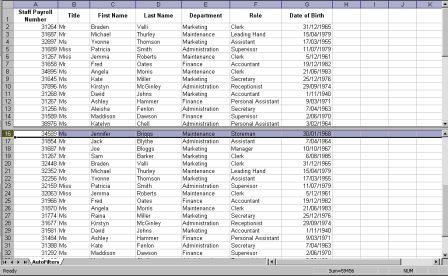 Vertical Split
To create a vertical split, highlight the column where you wish the split to be placed, go to Window>Split and you will see a line appear down the your worksheet.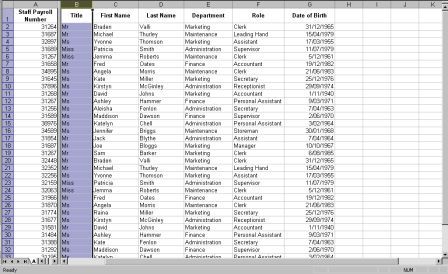 To create a Horizontal and Vertical Split
Click in a single cell of your worksheet and go to Window>Split. This will break your worksheet into four panes with a vertical and horizontal line.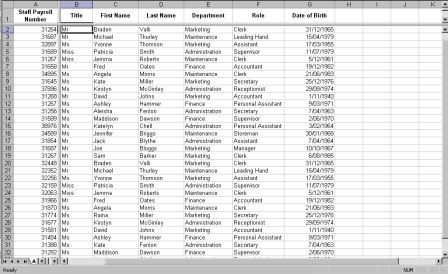 A quick way to create a horizontal split, is to go to the split box tool at the top of the vertical scroll bar, hold your left mouse button down and drag to your desired location. To quickly create a vertical split, use the split box tool at the far right of the horizontal scroll var.
Excel Dashboard Reports & Excel Dashboard Charts 50% Off Become an ExcelUser Affiliate & Earn Money
Special! Free Choice of Complete Excel Training Course OR Excel Add-ins Collection on all purchases totaling over $64.00. ALL purchases totaling over $150.00 gets you BOTH! Purchases MUST be made via this site. Send payment proof to [email protected] 31 days after purchase date.

Instant Download and Money Back Guarantee on Most Software
Excel Trader Package Technical Analysis in Excel With $139.00 of FREE software!
Microsoft ® and Microsoft Excel ® are registered trademarks of Microsoft Corporation. OzGrid is in no way associated with Microsoft
Some of our more popular products are below...
Convert Excel Spreadsheets To Webpages | Trading In Excel | Construction Estimators | Finance Templates & Add-ins Bundle | Code-VBA | Smart-VBA | Print-VBA | Excel Data Manipulation & Analysis | Convert MS Office Applications To...... | Analyzer Excel | Downloader Excel | MSSQL Migration Toolkit | Monte Carlo Add-in | Excel Costing Templates