Format Fonts for More Than 3 Conditional Formats
Excel Conditional Formatting. Format Fonts for More Than 3 Conditional Formats
Current Special! Complete Excel Excel Training Course for Excel 97 - Excel 2003, only $145.00. $59.95 Instant Buy/Download, 30 Day Money Back Guarantee & Free Excel Help for LIFE!
Got any Excel Questions? Free Excel Help . See Also: Conditional Formatting 3 criteria Limit
If you are familiar with Conditional Formatting in Excel you will know it has a 3 criteria limit. However, with the aid of Excel Custom Formats we can have up to 6 Conditional Formats for Font color. If you need background color and/or you need text values, see Conditional Formatting 3 criteria Limit for a Excel VBA method.
In the example below we have 6 conditions for font color as shown below.
If value less or equal to 0, then make font Red.
If value greater than 0 but less than or equal to 20, then make font Green
If value greater than 20 but less than 31 , then make font Blue
If value is between 31 and 40 make font Tan
If value is between 41 and 50 make font Grey-50%
If value is greater than, or equal to 51 make font Brown
To accomplish this we must select the cells to be formatted and then go to Format>Format Cells - Number and use the Custom Format as shown below;
[Red][<=0]0;[Green][<=20]0;[Blue]0
Click Ok to return to Excel. Now with the cells still selected go to Format>Conditional Formatting and set the format criteria as shown below;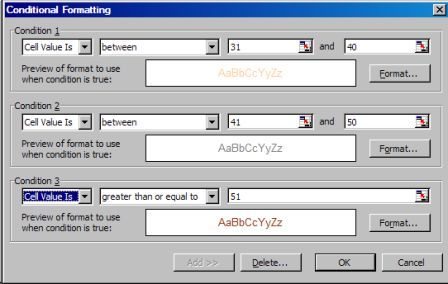 See Also: Conditional Formatting 3 criteria Limit
Excel Dashboard Reports & Excel Dashboard Charts 50% Off Become an ExcelUser Affiliate & Earn Money
Special! Free Choice of Complete Excel Training Course OR Excel Add-ins Collection on all purchases totaling over $64.00. ALL purchases totaling over $150.00 gets you BOTH! Purchases MUST be made via this site. Send payment proof to [email protected] 31 days after purchase date.
---
Instant Download and Money Back Guarantee on Most Software
Excel Trader Package Technical Analysis in Excel With $139.00 of FREE software!
Microsoft � and Microsoft Excel � are registered trademarks of Microsoft Corporation. OzGrid is in no way associated with Microsoft
Some of our more popular products are below...
Convert Excel Spreadsheets To Webpages | Trading In Excel | Construction Estimators | Finance Templates & Add-ins Bundle | Code-VBA | Smart-VBA | Print-VBA | Excel Data Manipulation & Analysis | Convert MS Office Applications To...... | Analyzer Excel | Downloader Excel | MSSQL Migration Toolkit | Monte Carlo Add-in | Excel Costing Templates
FREE Excel Help