Scheduling Program
Effectively & Efficiently Manage Accounts and Appointments
Buy Today (below) and send us your order ID and claim over $70.00 worth of FREE software
Munia Scheduling Program
Munia is a quick and easy-to-use scheduling program that allows you to effectively and efficiently manage your accounts and appointments. Munia is based on an electronic data sheet system designed to help you keep a track of your commitments (deadlines, appointments, debits, credits) providing you with an easy-to-consult record of client / supplier balances and amounts due.
Munia is a scheduling program that allows you to manage credits / debits, appointments and deadlines by means of a single data sheet [1] and calendar [2] showing expiry dates relevant to a selected period. All commands are grouped in both the upper toolbar and menu bar. Use Munia is quick and easy-to-use. The data sheet clearly displays all credit / debit due dates and the relevant amounts, differentiating between open and met deadlines. It is possible to filter data on the basis of given criteria by simply by selecting the relevant item from the tool bar list. In addition, rows can be grouped in a homogenous manner, according to set criteria, to clearly and automatically show the overall amounts due. Calendar - Things to do When the program is opened a calendar shows the deadlines relevant to the day in question. It is possible to select a different period at any time. In addition, the calendar highlights those dates still showing open deadlines. The lower part of the screen features a list of Things to Do (Open deadlines) for the selected period. Status bar The status bar on the lower part of the screen shows information relevant to the operation being carried out. A colored circle on the right side of the screen indicates the current deadline situation (Green: OK - Red: Open, expired or about to expire deadlines).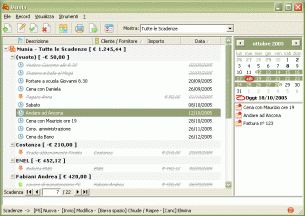 Munia Scheduling Program

$69.00 Payment Options/Problems
Special ! Free Choice of Complete Excel Training Course OR Excel Add-ins Collection on all purchases totaling over $68.00. ALL purchases totaling over $150.00 gets you BOTH! Purchases MUST be made via this site. Send payment proof to [email protected] 31 days after purchase date.
---
Instant Download and Money Back Guarantee on Most Software
Excel Trader Package Technical Analysis in Excel With $139.00 of FREE software!
Microsoft ® and Microsoft Excel ® are registered trademarks of Microsoft Corporation. OzGrid is in no way associated with Microsoft