Software Search Loading...
Show or View Hidden Excel Named Range Names
BUY | Excel Named Range Add-in Manager Start
After using the Hide Names options, you can access this page and see a list of all/any hidden names. You then simply choose some/all to Unhide and click the Unhide button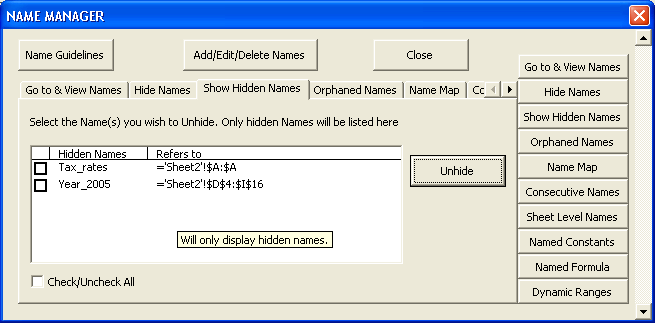 30 Day Money Back Guarantee On All Excel Add-ins! Big Discount for Unlimited License
You will be able to download your Excel Add-in immediately after ordering.
Excel Named Range Add-in Manager Start
Excel Named Range Manager

30 Day Money Back Guarantee Excel 97 through to 2003 Compatible. Payment Problems/Options SAVE by buying as part of a Add-ins collection
See Also: Excel Duplication Manager Add-in | Excel Formula Manager Add-in | Excel Number Manager Add-in | Excel Text Manager | Excel OzGrid Plus Add-in | Excel Time Sheet | Excel Time Wage and Pay book