Invoicing and Billing Software
Instant Invoice n Cashbook 2007
Invoice/ billing, quotation & cashbook software for the small business. Very fast setup & easy to use. Setup up wizard to get your first invoice out in minimum time. Track customer payments and outstanding invoices. Preview, print & email reports and charts instantly like invoice listings, sales by customer, outstanding invoice list, customer statements and more. Email invoices and quotes as a pdf attachment. No additional software needed.

Caters to businesses that do not bill tax, businesses that bill one level of tax and businesses that bill 2 levels of tax (e.g Canada). Prepare simple financial reports and charts like business income/ expenses reports.

Add a logo to your documents. Powerful search and find options to find your past invoices and quotes. Able to insert Paypal links to emailed invoices to allow customers to pay invoices over the internet. Prepare and manage recurring invoices.

Import your customer and product lists from MS Excel, MS Outlook Expresss Address book, text files (CSV) or other formats. Able to able to export your invoice listings to a comma or tab delimited file for pasting to MS Excel or other tools.

Runs on Windows 2000, ME, 2003 Server, XP and Vista or above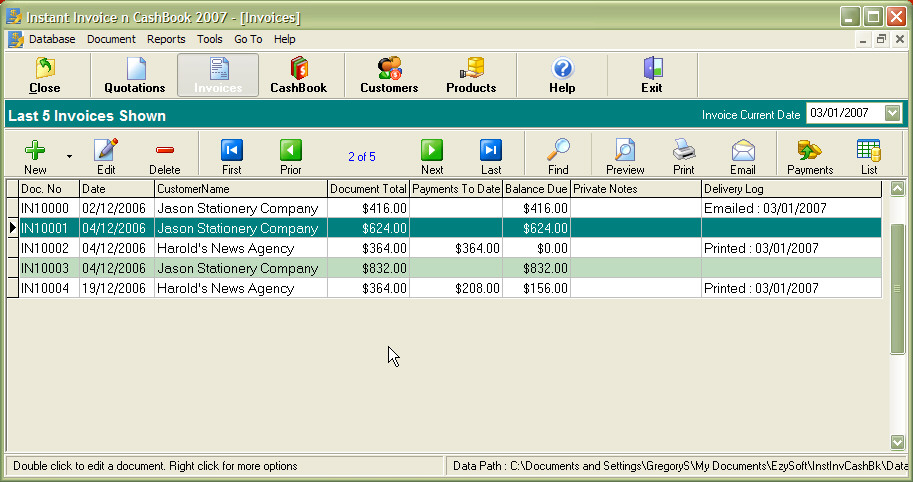 Download Demo Purchase MUST be made via this site for Special As Shown Below
ONLINE DEMOS: Quick tour (2:18 mins) | Create, preview, print & email an invoice or quotation (4:03 mins) | Enter customer payments against invoices (2:42 mins) | Create an invoice from an existing quotation (1:25 mins) | Enable emailed invoices to collect credit card payments over the internet (2:55 mins) | Create a recurring Invoice (4:50 mins)
Sample Reports (PDF): Invoice Listing By Reference Number | Invoice Listing By Customer | Outstanding Invoice Listing | Customer Payment Listing
Instant Invoice n CashBook 2007


Secure Payment Options 30 Day Money Back Guarantee! Satisfaction guaranteed or your money cheerfully refunded
Order Type:

1 Instant Invoice 2007 - 1 User (excludes cashbook & recurring invoice feature) ($79.00 USD)
2 Instant Cashbook 2007 - 1 User (excludes invoice module) ($79.00 USD)
3 Instant Invoice n Cashbook 2007 - 1 User ($139.00 USD)
4 Instant Invoice n Cashbook 2007 - 3 User ($199.00 USD)
5 Instant Invoice n Cashbook 2007 - 5 User ($319.00 USD)
6 Instant Invoice n Cashbook 2007 - 7 User ($439.00 USD)
7 Instant Invoice n Cashbook 2007 - 10 User ($599.00 USD)
Special ! Free Choice of Complete Excel Training Course or Excel Add-ins Collection on all purchases totaling over $70.00. ALL purchases totaling over $150.00 gets you BOTH! Purchases MUST be made via this site. Send payment proof to [email protected] 31 days after purchase date.
More: Invoice Software | Inventory Software | Incoming Phone Call Manager || Personal Accounting Management Software
---

Instant Download and Money Back Guarantee on Most Software
Excel Trader Package Technical Analysis in Excel With $139.00 of FREE software!
Microsoft ® and Microsoft Excel ® are registered trademarks of Microsoft Corporation. OzGrid is in no way associated with Microsoft
Some of our more popular products are below...
Convert Excel Spreadsheets To Webpages | Trading In Excel | Construction Estimators | Finance Templates & Add-ins Bundle | Code-VBA | Smart-VBA | Print-VBA | Excel Data Manipulation & Analysis | Convert MS Office Applications To...... | Analyzer Excel | Downloader Excel | MSSQL Migration Toolkit | Monte Carlo Add-in | Excel Costing Templates