Directory Lister Add-in for Microsoft Excel
The Directory Lister provides you with Windows Explorer capability within a Microsoft Excel spreadsheet! You can quickly and easily list all the files in multiple directories and rename, move or delete files and add documentation. Use the hyperlinks to open a file or directory by just clicking on its name. You can also sort directories by file name, date and file size.
Back to: Excel Templates | Excel Add-ins | Software Categories |

Search All Software
Order online from our secure service - Get delivery in minutes!
Free 30 Day Money Back Guarantee On All Excel Add-ins
Buy individually or as part of the Analysis Collection for Microsoft Excel and save! Over 80%by buying 40+time saving add-ins and 3downloadable books! Directory Lister for Microsoft Excel

$29.95

Secure Payment Options
The Directory Lister™ is like having the Windows Explorer inside Excel! The Directory Lister™ is menu driven for ease of use. The Directory Lister™ can create worksheets that contain filtered listings of your key directories. For example, create a directory listing of just the XLS files in your folders. Create another one that shows just the DOC files in the same directories! From the listings, you can open, rename, move or delete files or directories. The following shows a small snap shot of a directory listing:

If you click on a filename, the file is opened as the filenames are actually hyperlinks. If you click on a directory name, then the Windows Explorer is opened.
The following is the dialog that appears when you click on File, Directory Listings With Links (menu item added by the Directory Lister):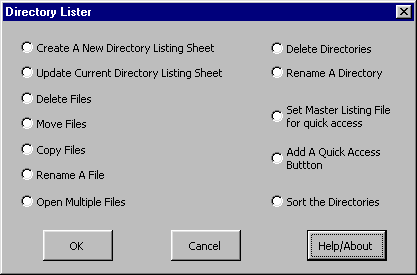 The following are the file filter options available when you create or update a directory listing sheet: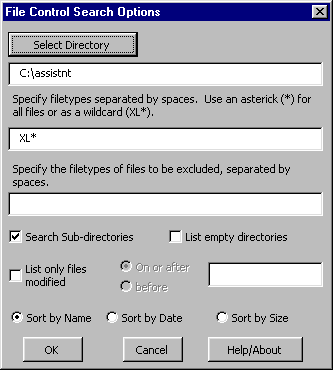 Software Categories

Search Software || Recent Additions
Excel Add-ins || Excel Training || Excel Templates || Employee Scheduling Software || Excel Password Recovery and Access & Word etc|| Excel Recovery and Access & Word etc || Financial Software || Financial Calculators || Conversion Software || Construction Estimating Software || Drilling Software || Real Estate Investment Software || Time Management Software || Database Software || Neural Network Software || Trading Software || Charting Software || Windows & Internet Software || Barcodes Fonts, ActiveX, Labels and DLL's || Code Printing Software || Outlook Add-ins
MOST POPULAR! Excel to HTML
Microsoft ® and Microsoft Excel ® are registered trademarks of Microsoft Corporation. OzGrid is in no way associated with Microsoft.