Copy Excel Formulas
Copy & Transpose Excel Formulas With References Changing
Also included in the Formula Manager is a Formula Copy option. This allows you to easily copy any formula range and paste it to a destination without any references changing. The other option is the transposing of formulas (row to columns and columns to rows) again, without any references changing.
How formulas in A1:A5 will be after transposing to cell B6. Formulas only displayed for demonstration purposes.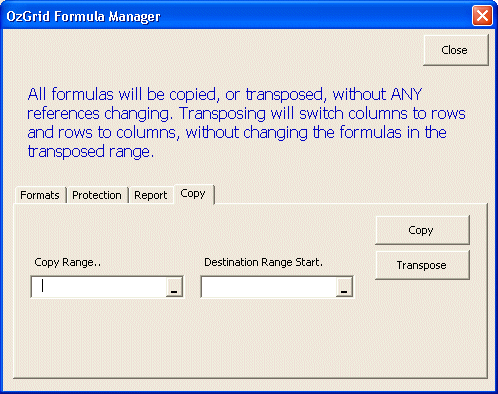 The Formula Manager is designed to make the managing of all formulas in Excel a breeze. It can be used in four main areas
Map your spreadsheet by formula type.

Format the background color of all formulas that match the criteria you set.

Format the font of all formulas that match the criteria you set.

Lock and hide formulas
Lock only formulas
Hide only formulas
Lock/Hide and protect all Worksheets in one go.

Copy (This Page)

Copy without formula references changing
Copy and transpose (row to column or column to row) without formula references changing
Formula Manager

Excel 97 or above |

Secure Payment Options | 30 Day Money Back Guarantee & Huge Discounts for Unlimited Licenses | Buy on its own or buy as part of the Excel Add-ins Collection for not much more and get our Complete Excel Course for FREE. You will be able to download your Excel Add-in immediately after ordering.
Single user license =2 users 2 computers| Unlimited user license = unlimited users unlimited computers | Resellers user license = Do anything you like with the add-in, including rebranding and reselling. That is, NO RESTRICTIONS AT ALL. Please email the support address and include your order number so we can send you the code password. Resellers user license ONLY
---
Instant Download and Money Back Guarantee on Most Software
Excel Trader Package Technical Analysis in Excel With $139.00 of FREE software!
Microsoft ® and Microsoft Excel ® are registered trademarks of Microsoft Corporation. OzGrid is in no way associated with Microsoft

GIVE YOURSELF OR YOUR COMPANY 24/7 MICROSOFT EXCEL SUPPORT & QUESTIONS