Loan Repayment Calculator
Calculate Loans and Mortgage Repayments
Loan Clac
Loan Calc is an easy-to-use tool intended to calculate loans and mortgages repayments in a very simple way. Loan Calc calculates repayments amount, monthly and total interest, total repayments and generates a full repayment list from a Start date. Loan Calc is currency-independent so it can be used with Dollars, Francs, Marks, Pounds,...or whatever you like. Just use a dot or a comma for decimals depending on your system settings. Loan Calc lets you select both period and interest compounding from continuous (compounding only), weekly, biweekly, monthly, quarterly, semi-annually and annually.
Key Features
Calculates loan repayments according to amount, rate, duration...
Support for interest compounding.
Generates full payment list from a Start date
Exports repayment lists to text files or Excel sheets.
Currency independent - Easy-to-use interface.
Native versions for Mac OS X and Mac OS Classic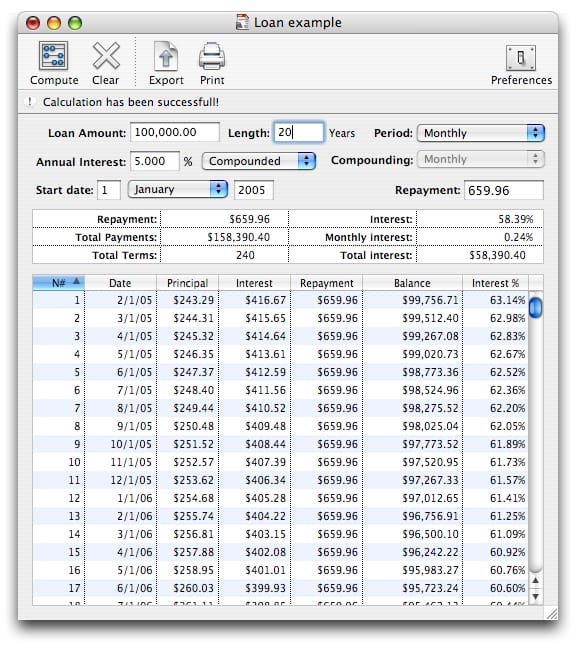 For MacOS X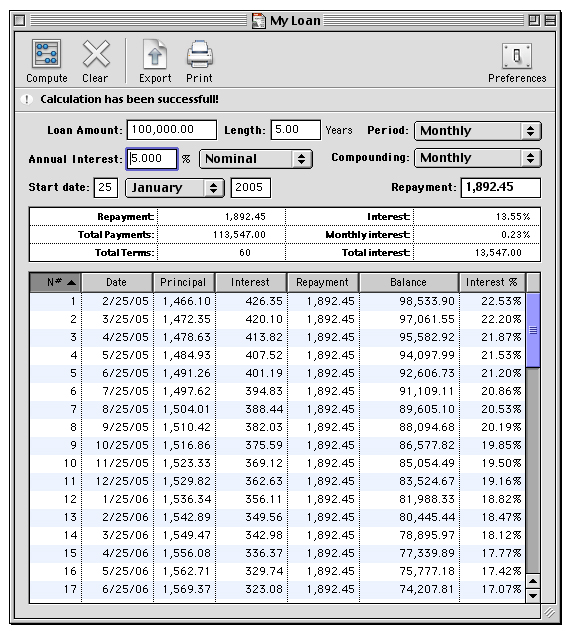 Loan Calc


Secure Payment Options Unconditional money back guarantee if not satisfied within 30 days!
Pricing:

| | |
| --- | --- |
| 1 | $20.00 USD |
| 2 - 4 Licenses | $16.90 USD |
| 5 - 9 Licenses | $14.90 USD |
| 10+ Licenses | $12.90 USD |
Special ! Free Choice of Complete Excel Training Course or Excel Add-ins Collection on all purchases totaling over $70.00. ALL purchases totaling over $150.00 gets you BOTH! Purchases MUST be made via this site. Send payment proof to [email protected] 31 days after purchase date.
---

Instant Download and Money Back Guarantee on Most Software
Excel Trader Package Technical Analysis in Excel With $139.00 of FREE software!
Microsoft ® and Microsoft Excel ® are registered trademarks of Microsoft Corporation. OzGrid is in no way associated with Microsoft
Some of our more popular products are below...
Convert Excel Spreadsheets To Webpages | Trading In Excel | Construction Estimators | Finance Templates & Add-ins Bundle | Code-VBA | Smart-VBA | Print-VBA | Excel Data Manipulation & Analysis | Convert MS Office Applications To...... | Analyzer Excel | Downloader Excel | MSSQL Migration Toolkit | Monte Carlo Add-in | Excel Costing Templates