Time & Wage Template
Excel Based Time & Wage Template
If you need to track employee hours and calculate their pay based on the hours worked, this Workbook will make it a breeze! It is an Excel Workbook which you enter, one time only, all your employee names into. You then enter their hourly rate and then simply enter their total hours worked for each day. It also has the option to add 2 different overtime rates and the hours after which these rates apply, all calculations are done for you! You can also add 2 different rates for both Saturday and Sunday rates. If your employees work Public holidays, there is another option for Public holiday rates. All you do is fill in the needed details once and save as a Template. See more details below:
Allows up to 50 employees.
Simple step-by-step instructions.
Nomination of public holidays rates (optional).
Allows for 2 levels of overtime payments (optional).
Allows nomination of Saturday and Sunday hourly pay as well as 2 levels of Saturday and Sunday overtime payments (optional).
Allows nomination of public holiday hourly pay as well as 2 levels of public holiday overtime payments (optional).
Setting of pay period from 1 day to 2 weeks.
Automatic pay calculations based on employee details entered (points 3, 4, 5 and 6).
Display of days, weekdays, Saturdays, Sundays and public holidays in pay period set.
Facility for "Additional" pays each day.
Grand total of all pays for pay period.
Grand total of all hours for pay period.
Total pay by employee for pay period.
Total hours by employee for pay period.
Probably the biggest advantage is its ease of use. You only need to enter employee details once, set a pay period, then enter their hours worked each day and the rest is done for you. different pay rates for Saturdays, Sundays and public holidays are all optional, as are the 2 levels of overtime rates! Once you have filled out the information, you simply save the Workbook as a Template and your are done. You can edit, modify and change information at any time. The Full Working Version contains NO VBA at all, calculations are done via Worksheet Functions. This makes the Workbook extremely user friendly and data entry a breeze. The Workbook is also universal and can be used in any country.
Snap shot of Time sheet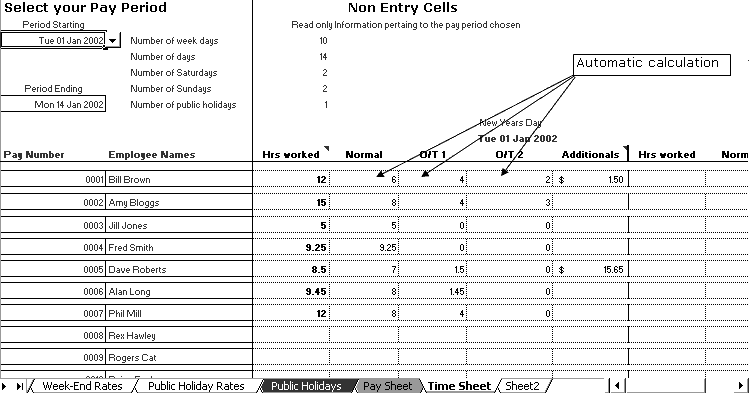 Snap shot of Pay sheet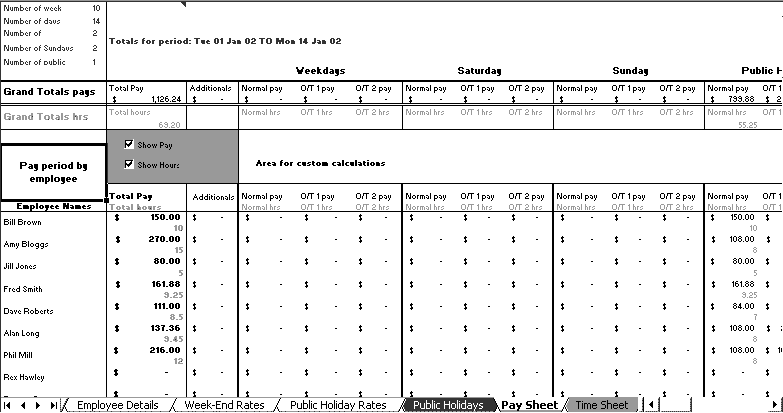 Excel Time, Wage & Pay book

Excel 97 or above. $29.95 Payment Problems/Options 30 Day Money Back Guarantee
Special! Free Choice of Complete Excel Training Course OR Excel Add-ins Collection on all purchases totaling over $70.00. ALL purchases totaling over $150.00 gets you BOTH! Purchases MUST be made via this site. Send payment proof to [email protected] 31 days after purchase date.
See Also: Excel Templates Index or, All Software
---

Instant Download and Money Back Guarantee on Most Software
Excel Trader Package Technical Analysis in Excel With $139.00 of FREE software!
Microsoft ® and Microsoft Excel ® are registered trademarks of Microsoft Corporation. OzGrid is in no way associated with Microsoft
GIVE YOURSELF OR YOUR COMPANY 24/7 MICROSOFT EXCEL SUPPORT & QUESTIONS