Excel AutoSum
Excel Autosum. Sum up Values in Excel Automatically
Excel's AutoSum Function. See Also: SUM Formula/Function || Excel AutoSum || AutoSum Tips 2 and AutoSum Tips 3
Because adding numbers is probably the most common function that Excel is used for, Excel has a built-in Feature called AutoSum located on the Standard toolbar. AutoSum is represented as the Greek Capital letter Sigma Σ. You can use AutoSum to sum a range of cells. A Range can be one single cell, or many cells. You can sum cells in a contiguous (no gaps) range of cells, or a non-contiguous (cells not joined together) range.
To use AutoSum you must click in the cell that you wish your result, or addition to appear in. As a default, AutoSum looks up a column for figures immediately above it to add together. This works great, unless it encounters a blank row or text. If it does, then it stops at the last cell with a number in it. If there are no numbers above it, AutoSum will automatically go to the left looking for numbers to add up, but will again stop at a blank column or text. This is Excel's default, but you can easily change it.
The SUM Function is written as =SUM(number 1, number 2). = is the trigger to Excel that a function or formula is following. SUM is the name of the function and (number 1, number 2) are the arguments that the SUM function needs to work, or in our case the numbers it is to add up. When you click the AutoSum icon, you will see the SUM function written in your cell, with a marquee (floating dotted line) around what the AutoSum intends to add up. If the highlighted range is what you wanted to add up, click OK, if not then change the range you wish to add.
Following are three screen shots showing the AutoSum.
AutoSum automatically picks up the numbers above it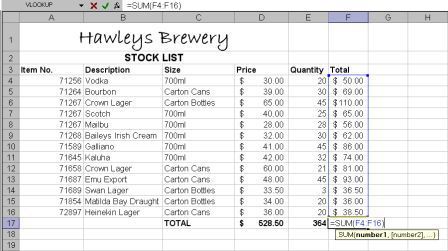 AutoSum automatically looks left for numbers if it encounters no numbers immediately above it, but numbers to the left.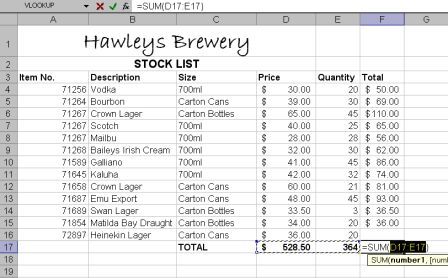 AutoSum automatically stops when it encounters a blank line, or text in the middle of the range it is trying to add up.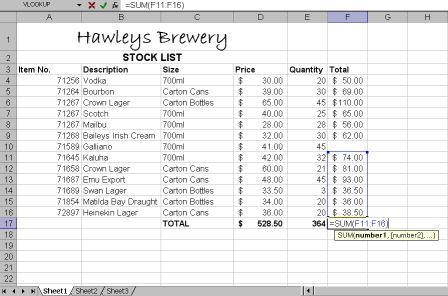 See Also: Excel AutoSum ||AutoSum Tips 2 and AutoSum Tips 3
Excel Dashboard Reports & Excel Dashboard Charts 50% Off Become an ExcelUser Affiliate & Earn Money
Special! Free Choice of Complete Excel Training Course OR Excel Add-ins Collection on all purchases totaling over $64.00. ALL purchases totaling over $150.00 gets you BOTH! Purchases MUST be made via this site. Send payment proof to [email protected] 31 days after purchase date.

Instant Download and Money Back Guarantee on Most Software
Excel Trader Package Technical Analysis in Excel With $139.00 of FREE software!
Microsoft ® and Microsoft Excel ® are registered trademarks of Microsoft Corporation. OzGrid is in no way associated with Microsoft
Some of our more popular products are below...
Convert Excel Spreadsheets To Webpages | Trading In Excel | Construction Estimators | Finance Templates & Add-ins Bundle | Code-VBA | Smart-VBA | Print-VBA | Excel Data Manipulation & Analysis | Convert MS Office Applications To...... | Analyzer Excel | Downloader Excel | MSSQL Migration Toolkit | Monte Carlo Add-in | Excel Costing Templates