Excel Advanced Filter
AdvancedFilter by More Than 2 Criteria
Got any Excel Questions? Free Excel Help
See Also: Excel AutoFilters
Advanced Filter Download a Workbook Showing Advanced Filter
Excel Advanced Filter
Other than Excel's very popular Auto Filter, we have at our disposal Excel's Advanced Filter. In a nutshell, Excel's Advanced Filter can be used to filter by more than 2 criterion, where Auto Filter has a max of 2! It also has a very nifty feature that allows us to create a list of unique items from a list with repeated data. In addition, we can even use Excel formulas for Excel's Advanced Filter criteria.
Rules for Advanced Filtering
1) You list or table must have headings at row 1 of the table.
2) Your data must be laid out directly underneath their appropriate headings.
3) When using criteria the cell(s) directly above must have exact copies of the table heading(s). See picture below;
4) When using Excel formula criteria the cell(s) directly above must NOT have exact copies of the table heading(s). They should be blank, or have a heading that is NOT the same as your table heading(s).
5) If using the "Copy to another location" option you can only copy to the same Worksheet as your original table is located. To copy to another Worksheet you can Start by going to Data>Advanced Filter while on the Worksheet your data should be copied to.
6) To create an OR condition place each criteria in a new cell directly below each other, vertically.
7) To create an AND condition place criteria in a new cell directly next each other running left top right, horizontally. See picture below;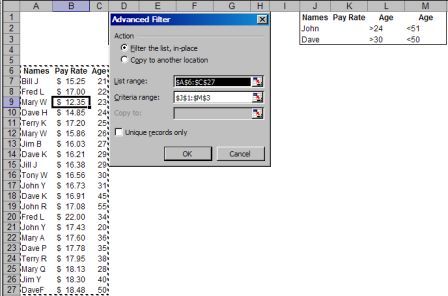 Advanced Filter Download a Workbook Showing Advanced Filter
See Also: Excel AutoFilters
Excel Dashboard Reports & Excel Dashboard Charts 50% Off
Become an ExcelUser Affiliate & Earn Money
Special! Free Choice of Complete Excel Training Course OR Excel Add-ins Collection on all purchases totaling over $64.00. ALL purchases totaling over $150.00 gets you BOTH! Purchases MUST be made via this site. Send payment proof to [email protected] 31 days after purchase date.

Instant Download and Money Back Guarantee on Most Software
Excel Trader Package Technical Analysis in Excel With $139.00 of FREE software!
Microsoft ® and Microsoft Excel ® are registered trademarks of Microsoft Corporation. OzGrid is in no way associated with Microsoft

GIVE YOURSELF OR YOUR COMPANY 24/7 MICROSOFT EXCEL SUPPORT & QUESTIONS