Excel AutoFilters Custom Option
Using Custom AutoFilter to filter items in a list by more than one condition
Excel AutoFilter Custom Option
As you know, Excel's AutoFilter allows a user to filter items in a list according to a set criteria one one column at a time. AutoFilter has an option named Custom, which will allow a user to filter items by more than one condition on the same column.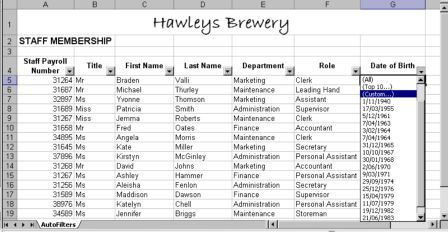 If you select Custom from the AutoFilter drop down list, you will be presented with a dialog box. The dialog box is broken into four parts. Let's say we want to show records for people who have birthdays after 1 January 1965 and before 31 December 1976. To do this, we would make the following selections from the Custom dialog box and click OK: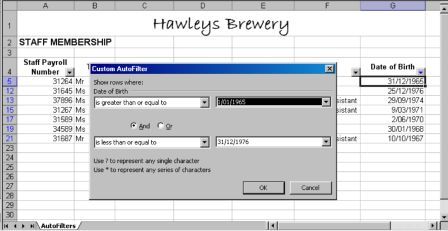 This will display only people whose birthdays fall between 1 January 1965 and 31 December 1976.
Custom Views
You can save your newly filtered list as a Custom View, so that at any time you can easily return to it, filters already in place. To do this go to View>Custom Views and click the Add button. Give your view a name and make sure you have a tick next to Hidden rows, columns and filter settings. This is a must to retain all the settings. Click OK.
You can then call up your filtered list as a Custom View by going to View>Custom Views, clicking on the name of your view and selecting the Show button.
Go Back To: Excel AutoFilters Start
See Also: Advanced Filters
Excel Dashboard Reports & Excel Dashboard Charts 50% Off Become an ExcelUser Affiliate & Earn Money
Special! Free Choice of Complete Excel Training Course OR Excel Add-ins Collection on all purchases totaling over $64.00. ALL purchases totaling over $150.00 gets you BOTH! Purchases MUST be made via this site. Send payment proof to [email protected] 31 days after purchase date.

Instant Download and Money Back Guarantee on Most Software
Excel Trader Package Technical Analysis in Excel With $139.00 of FREE software!
Microsoft ® and Microsoft Excel ® are registered trademarks of Microsoft Corporation. OzGrid is in no way associated with Microsoft
Some of our more popular products are below...
Convert Excel Spreadsheets To Webpages | Trading In Excel | Construction Estimators | Finance Templates & Add-ins Bundle | Code-VBA | Smart-VBA | Print-VBA | Excel Data Manipulation & Analysis | Convert MS Office Applications To...... | Analyzer Excel | Downloader Excel | MSSQL Migration Toolkit | Monte Carlo Add-in | Excel Costing Templates